Rima Verified Radiant Barriers & Reflective Bubble Foil Insulation
This entry was posted on January 19, 2012 by Insulation Stop.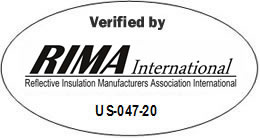 You say your insulation is RIMA Verified. What does that mean for the foil insulation consumer?
When the consumer purchases foil insulation, they like any building material purchase, want to get the most product at the best price. Well, we have that here at the InsulationStop, the best delivered price.
He also wants to get the best product possible. We do that here as well. Best radiant barrier products, and the best prices for foil insulation. Only at the InsulationStop.
All of the products we list on our websites are RIMA Verified. RIMA, the Reflective Insulation Manufacturers Association's International Verification Program has been established to:
"Identify reflective products which have fulfilled test requirements in accordance with the current applicable code standards for each country."
This ensures that the products you are purchasing have in fact been tested to the standards they list. Only supplying RIMA verified radiant barrier and foil insulation to our customers makes the consumer choice easy. And again, at the best price.
Contact Rima directly for more information regarding their verification program. Here is a link to their verification page.
Thanks for shopping at the InsulationStop. We appreciate your business.